« Previous Product
|
Next Product »
Customer Reviews
Buying experience with Jewelove
Sambhav is the wonderful person to reach out. He is patient enough to listen to us and understand our choice and than execute the order. Order was commenced and the delivery was pretty quick than expected. Not to forget the product was much better in person, just love it. Really appreciate all the efforts made by himself and the entire team who are involved in to keep up the timelines. I would definitely suggest Jewelove to anyone looking for their precious jewellery. Purchasing a Jewellery just doesn't involve monetary funds, it also involves the moments and a wonderful buying experience and wearing that jewellery can be cherished for lifetime. Three cheers to Sambhav and his team.
Beautiful Ring
Beautiful ring & very accommodating seller. He ensured that the ring would arrive on time and was very helpful answering all of our questions in a timely manner.
Excellent & Reliable Service
Kudos to Sambhav and team. I needed an engraved platinum ring within a very short notice and he delivered on time, including the engraving. In addition, for some reason, the size I requested did not fit me, and the team arranged for a pickup, they resized the ring and delivered it back to my residence at no extra cost. The whole transaction was handled very professionally and very smoothly. Very little effort was involved from the customers' end and Sambhav was extremely prompt in his responses/replies to any queries or issues that I had. Also, the packaging and delivery was very pleasant and beautifully done with an illuminated ring-box, chocolates, and a personal handwritten message :). Great service and a good quality product. This establishment will definitely go miles. Absolutely recommended for any occasion. Thank you.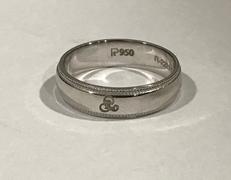 Ring received on time
We had to catch a flight in 2 days & needed immediate next-day delivery. We called jewelove, they understood our urgency & delivered us the ring next day! Very good service. Ring was certified & was same as it was online.
---